SCROLL DOWN FOR REVIEWS, DEMO MIXES, QUOTE FORM, AND MORE!
Winner of the Couple's Choice Award 8 Years In A Row!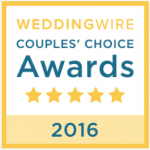 What Brides Are Saying
Quotes from Indiebride.com chatroom
"…We went to a wedding last year with DJ Shakey and thought she was great -- all good, fun music that everyone was excited about, absolutely nothing cheesy.."
"…She kept our guests dancing all night long and read the crowd really well. As requested she stuck pretty closely to the songs we asked for--we were hands-on with choosing the music and sent her several MP3s--but the flow of music was just right and she supplemented our selections expertly. If it weren't for the bars on Stone St. right around the corner, I'm sure people would have never left…."
"…She DJ-ed a wedding we went to a couple years ago and was just exactly what we wanted -- great music (by our taste, which runs toward indie rock and old soul), but she keep everyone dancing with the music, and no cheesy antics…"
Contact Julie Covello
aka: Dj Shakey
201-679-9736